Before we plunge into the real issues of the world – such as why Mr. Mime is apparently an otherworldy abomination – can we all just take a moment to appreciate this absolute unit of a Game & Watch console?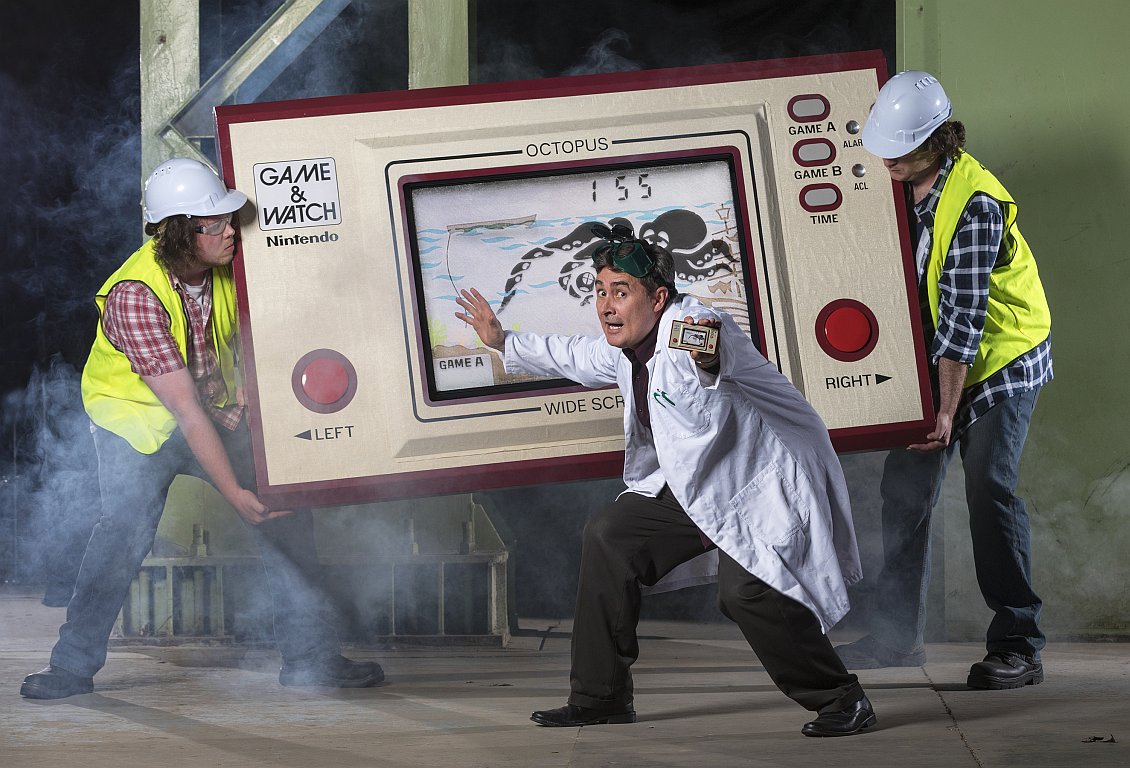 South Australian computer scientist Dr Thomas Tilley (who, as far as I can tell, is not the bloke from Hack) now holds the Guinness World Record for the world's largest playable Game & Watch device. Measuring a whopping 193cm by 116cm, Dr Tilley's massive copy of Octopus was originally made for the 2017 Maker Faire in Adelaide and was recently confirmed to be the biggest of its kind by Guinness World Records last month. Congratulations to Dr Tilley for his creativity and dedication.
October was an absolutely mammoth month to celebrate Australia's contributions to the modern video game landscape. Melbourne, in particular, came alive with a veritable cornucopia of opportunities for those who both love to game and wanted to make the most of the three weeks of decent weather we get a year.
In the space of one week, Asia Pacific's largest digital games celebration – the Melbourne International Games Week – hosted a series of conferences, events and activities in a city that makes up over a third of Australia's gaming industry. The tireless efforts of Aussie coders and creators – struggling against a tumultuous decade of job security and a largely indifferent government – have paid off in recent years, with Melbourne's slice of the industry emerging into a multi-billion-dollar juggernaut. It's good to celebrate.
Of course, you couldn't finish the Melbourne International Games Week without paying a trip to PAX Australia. Evolving from the community of popular web-comic series Penny Arcade to become an international gaming phenomenon, PAX is genuinely one of the most exciting events on the calendar for anyone that grew up with a controller in their hand and impossible for me to describe without sounding like I've joined a glorious cult. This year, in particular, was a biggie – fellow convention EB Expo came along for the ride as a part of PAX, sporting a dedicated area for the world's largest publishers.
Throughout the three days, there were tournaments, panels and an array of renowned gaming figures – from an opening Storytime panel with Rhianna Pratchett (writer for Tomb Raider, Heavenly Sword and Mirror's Edge) to live performances from D&D comedy podcast Dragon Friends and Nerf Herder (the geek rock legends behind hit single Van Halen and the Buffy The Vampire Slayer theme). Tens of thousands of passionate gamers around the world have made the journey to Australia's largest gaming convention and it's always a pleasure to play, battle, discover and connect with a diverse multitude of fellow enthusiasts.
In more recent news, however, the trailer for Pokémon: Detective Pikachu has dropped and the internet's reaction – as with any literary catalyst the internet is exposed to – could best be described as 'frenetic'. Featuring Justice Smith, Kathryn Newton, Ken Watanabe and Ryan Reynolds as the voice of Detective Pikachu himself, the trailer showcases a radical reinterpretation of the traditional Pokémon mythos – reshaping the earnest adventure of the game as a significantly darker, if tongue-in-cheek, crime mystery.
When failed Pokémon trainer Tim Goodman's father Harry – a legendary Ryme City detective – goes missing after a car crash, the only way to uncover the secret to his disappearance is to work alongside Harry's former Pokémon partner: a hard-boiled Pikachu that sounds like Van Wilder. Despite obviously being the greatest idea graced by a human mind, the visual and thematic translations to a live-action film have garnered some 'divisive' reactions from fans, with their concerns overwhelmingly related to exactly how much or little hair should be on any given creature.
This is absolutely twisted pic.twitter.com/mml2mml1qj

— j.r. hennessy (@jrhennessy) November 12, 2018
I have a lot of questions about literally every single texturing decision being made in Detective Pikachu, but this one feels the most egregious. JIGGLYPUFF IS NOT FURRY!! pic.twitter.com/JEd8yxel7h

— Nick Bestor (@Bestorb) November 12, 2018
Whoever gave Mr. Mime freckles and tiny little hairs on the top of his head is going to prison pic.twitter.com/7w2WYQjE7e

— Jacob Oller (@JacobOller) November 12, 2018
"The most merciful thing in the world, I think, is the inability of the human mind to correlate all its contents,"

– H.P. Lovecraft, upon watching me spend eight hours today trying to fully comprehend the words "Detective Pikachu"

— Colley (@JamColley) November 13, 2018
who else wanna gently touch mr mime's peach fuzz pic.twitter.com/EwT5Vv1rKE

— sean(@swoletergeist) November 12, 2018

There are also adherents to a long-running belief that Danny DeVito should have played Pikachu in Detective Pikachu – a sentiment which resulted in a petition over 50,000 signatures strong. There are already remixed trailers available dubbing the lovable rodent with Frank's deranged thoughts from Always Sunny In Philadelphia, because it makes about as much sense as anything else by this point. The entertainment industry and our reaction to it is a nesting doll of insanity.
Danny Devito is Detective Pikachu in some better timeline, and this is what it sounds like: pic.twitter.com/g029RoGPIh

— Blake (@NoShape_) November 12, 2018
It is too late to regret giving Mr. Mime flesh. Embrace the horror. Pokémon: Detective Pikachu hits cinemas on Friday May 10, 2019.